Upgrade your PC with the Seagate® BarraCuda™ Q5 NVMe SSD and unleash performance speeds up to 50× faster than traditional HDDs. Designed with the latest 3D QLC NAND technology, BarraCuda Q5's slim M.2 2280 form factor provides optimal compatibility and easy plug-and-play installation.
Includes
System Requirements
M.2 (M key) slot, PCIe G3 ×4 interface
Windows

 

®

 

10, Windows 8.1
Linux
Speed Up Your Computer

BarraCuda SSD solutions come in both 2.5 SATA and M.2 2280 form factors, perfect for ultra-thin and ultra-small laptops, mini PCs, and desktop PCs that need next-level SSD speed for accelerated applications and multitasking.
NVMe 2.5x faster speeds

Seagate's BarraCuda Q5 SSD unleashes speeds that are up to 2.5x faster than SATA SSDs.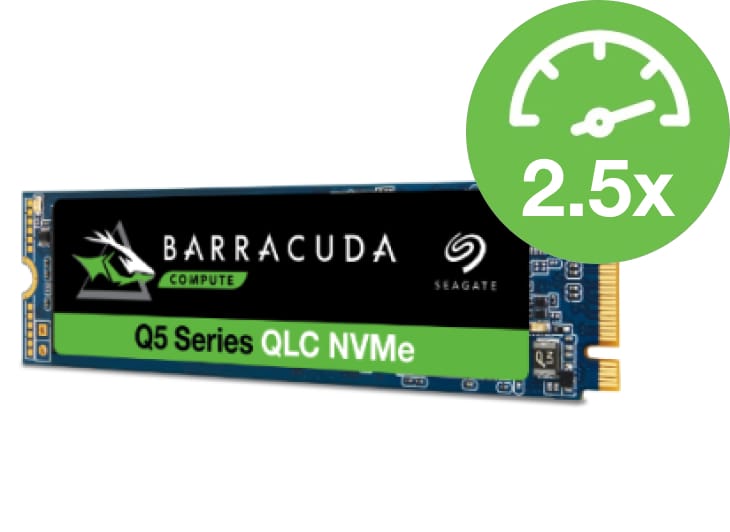 With the BarraCuda Q5 SSD, get:


3-year limited warranty
1-year Rescue Data Recovery Services
1.8M hours MTBF
Up to 531 TB TBW
DiscWizard and SeaTools — Making Drive Management Easier

Seagate makes it easy to add new drives to your computer and monitor their health and performance with the free DiscWizard™ and SeaTools™ software. Easily clone your current drive to your new Seagate drive, create and format partitions, transfer data, and back up data with DiscWizard, and then seamlessly monitor drive health, performance, and firmware updates using SeaTools.
Peace of mind for when the unthinkable happens.

Data recovery can be costly. That's why most Seagate® drives now include Rescue Data Recovery Services. Defend your data — and your budget — against unexpected data loss for any mechanical, accidental or natural disaster.

With Rescue Data Recovery Services, you get:


Access to a team of world-class data recovery experts
One in-lab data recovery attempt
An encrypted storage device containing your recovered data if recovery is successful
An industry-leading 95% success rate for in-house SSD and HDD data recovery
Specifications

2 TB

1 TB

500 GB

Capacity

2 TB

1 TB

500GB

Standard Model

ZP2000CV30001

ZP1000CV30001

ZP500CV30001

Interface

             ®                                  ™

PCIe Gen3 ×4 NVMe 1.3

PCIe Gen3 ×4 NVMe 1.3

PCIe Gen3 ×4 NVMe 1.3

NAND Flash Memory

3D QLC

3D QLC

3D QLC

Form Factor

M.2 2280-S2

M.2 2280-S2

M.2 2280-S2

Performance

1 Sequential Read (Max, MB/s), 128KB

2,400

2,400

2,300

1 Sequential Write (Max, MB/s), 128KB

1,800

1,700

900

Endurance/Reliability

Total Bytes Written (TB)

531

274

119

Mean Time Between Failures (MTBF, hours)

1,800,000

1,800,000

1,800,000

Warranty, Limited (years)

3

3

3

Rescue Data Recovery Services (years)

1

1

1

Power Management

Active Power, Average (W)

3.3

3.1

2.2

Idle Power PS3, Average (mW)

25

27

23

Low Power L1.2 mode (mW)

1.6

1.6

1.5

Environmental

Temperature, Operating Internal (°C)

0 to 70

0 to 70

0 to 70

Temperature, Non-operating (°C)

-40°C – 85°C

-40°C – 85°C

-40°C – 85°C

Shock, Non-operating: 0.5 ms (Gs)

1,500

1,500

1,500

Special Features

TRIM

Yes

Yes

Yes

S.M.A.R.T.

Yes

Yes

Yes

Halogen-free

Yes

Yes

Yes

RoHS compliance

Yes

Yes

Yes

Physical

Height (mm/in, max)

2.15 mm/0.085 in

2.15 mm/0.085 in

2.15 mm/0.085 in

Width (mm/in, max)

22 mm/0.866 in

22 mm/0.866 in

22 mm/0.866 in

Depth (mm/in, max)

80 mm/3.149 in

80 mm/3.149 in

80 mm/3.149 in

Weight (lb/g)

7 g/0.015 lb

7 g/0.015 lb

7 g/0.015 lb
Newsletter
Sign up to receive the latest information