Features
Includes:
All-in-one design
No computer needed
SIP/H.323
Meeting size: up to 6 people
4K camera sensor
Full HD Video 1080p@30Hz
USB
Bluetooth®
102° field of view
5x digital zoom
OmniSound®
No computer needed
Remote control
Wireless sharing
Easy installation
Web-based configuration
Automatic updates, OTA
EPTZ
Four built-in microphones
All-in-one design
Easy to use touch interface
Double channels: video and content
Recording
Wall bracket included
Free software updates
Android-based
KONFTEL CC200 All-In-One Collaboration Conference Camera. Video in full HD 1080p. Designed Up to 6 People. No Computer Needed. SIP/H.323. Wi-Fi. 4K Camera Sensor. Bluetooth & USB.
A whole video system in a compact collaboration camera. With the Konftel CC200, you can prepare your huddle rooms for video conferencing in a matter of minutes. Clean, stylish and no need for a computer.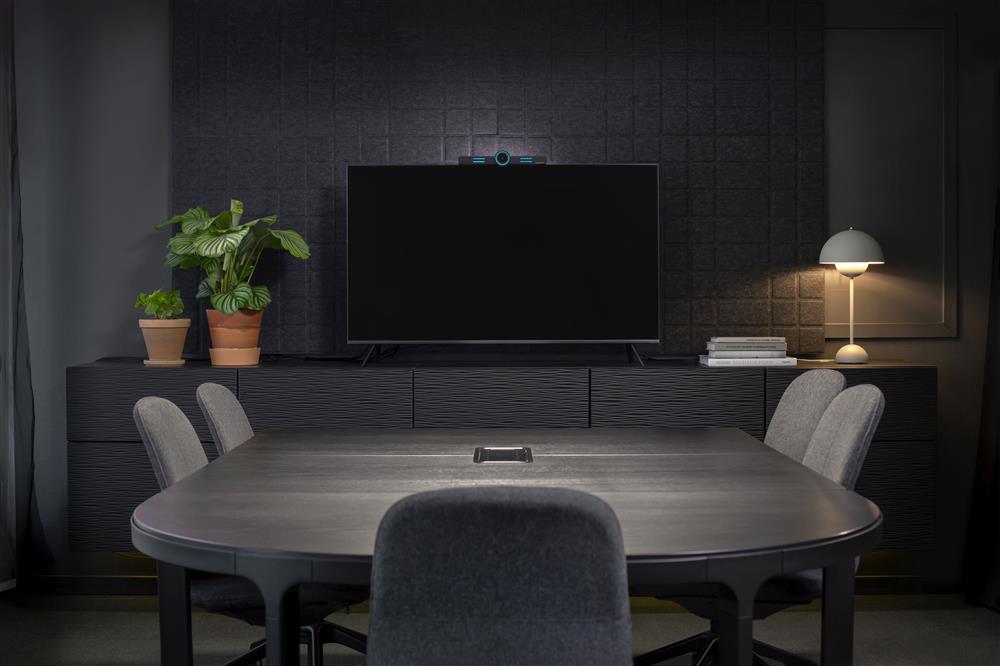 A reliable solution
Reliability, security and ease of use are the leading priorities when choosing a video conferencing solution. The all-in-one Konftel CC200 camera minimizes the risk of service interruption and the built-in security will satisfy the requirements of even the biggest corporations. This streamlined product also offers an unusual level of convenience for the user. 
 Look Sharp!
The Konftel CC200 has all the qualities you need for a productive video conference: 4K camera with a video resolution of 1080p@30Hz, four built-in microphones and sound optimization through our own OmniSound® technology.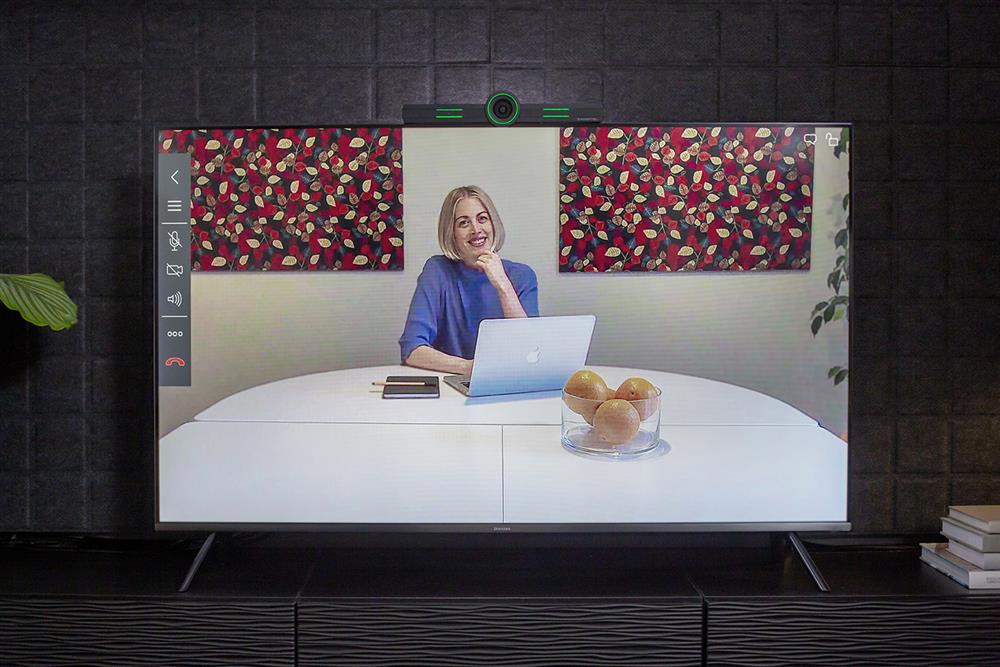 Take advantage of the space
Video conferencing is no longer the exclusive preserve of traditional conference rooms. Thanks to its compact design and simplest possible installation, the Konftel CC200 can quickly and cost-effectively transform any space with a screen into a venue for video conferencing – from home offices to huddle spaces and small meeting rooms.
 Open for the world
The Konftel CC200 supports SIP/H.323 and so works with all standard-based video systems and video conferencing services, as verified during rigorous testing. The collaboration camera can also be opened up for installation of Android apps, from popular collaboration services to niche functions.
 Click into the meeting
Full remote control, touchscreen, Bluetooth keyboard and mouse or web interface. The all-in-one solution can be controlled in various ways, often with just a few simple clicks. For popular video conferencing platforms such as Zoom, BlueJeans and Pexip, the join button is displayed directly in the calendar. All you have to do is click in. Compatible with the market's leading systems for meeting control.
 
Optimize productivity
The many smart functions include recording of everything you see and hear in the video conference, either to a USB stick or a network device. Another is whiteboarding, for example from the Android version of PowerPoint. This is made possible thanks to the Konftel CC200's support for double channels: one for video and one for content.
 Place the audio on the table
In a typical huddle room with up to six people, the built-in microphones do an excellent job of capturing the audio and sending it to the meeting with incredible clarity. In this case, the built-in speakers of the TV monitor can be used. If the room is larger, simply expand the audio capacity and place a speakerphone on the table. It can be connected wirelessly via Bluetooth or via USB, and Konftel offers a number of award-winning products that are optimized for different meeting sizes.
Specs
GENERAL INFORMATION
Product name: Konftel CC200

Item no.: 931501001

Contents: Konftel CC200, Lens cap, Remote control with qwerty keyboard and two AAA batteries, Wall mount with screws, Power adapter 220V (EU, US, AU, UK), HDMI Cable 1.5 m, 90° HDMI adapter, Quick Guide and Safety instructions.
Size: 28.0 (11.0") x 5.5 (2.2") x 6.5 cm (2.6") (LxWxH)
COMMUNICATIONS
IP: H.323, SIP (RFC 3261).

Bit rate: H.323/SIP up to 4Mbps

MCU compatibility: H.243, H.231 XMPP Presence support.
CAMERA
Sensor: 4Kp30

Video resolution: 1080p30

Horizontal Field of View: 102°

Vertical Field of View: 68°

Digital zoom: 5x

Preset: up to 122 presets (web-managed), up to 10 presets (GUI managed).
VIDEO
Video features: Two simultaneous channels: camera + content
Video protocols: H.264, H.264 High Profile. 

Dual: H.239 (H.323) and BFCP (SIP) 
SVC (Scalable Video Coding) H.263+ is supported with resolutions up to 4CIF@15fps. Only
RFC2429 is supported. Custom formats and annexes are not supported.

Video input: 

Live video from built in camera up to 1920 x 1080p30fps. 
Wireless presentation up to 1920 x 1080p15fps.

Video output: 

1x HDMI, 3840 x 2160@25, 30fps; 1920 x 1080@25, 30fps; 1280 x 720@25, 30fps

Live video encoding format:

1920 x 1080p@25, 30fp
1280 x 720p@25, 30fps
1024 x 576p@25, 30fps: w576p
848 x 480p@25, 30fps: w480p
768 x 448p@25, 30fps: w448p
704 x 576p@25, 30fps: 4CIF
704 x 480p@25, 30fps: 4SIF
624 x 352p@25, 30fps: w352p
576 x 336p@25, 30fps
512 x 288p@25, 30fps: wCIF
416 x 240p@25, 30fps: w240p
400 x 224p@25, 30fps
352 x 288p@25, 30fps: CIF
352 x 240p@25, 30fps: SIF
USER INTERFACE
User interface 25 language on-screen user interface.

Infrared remote control.API for endpoint control.
Microsoft Exchange calendar integration.
Android™ apps can be downloaded on the device and used alongside the Konftel CC200 video-communication application (Android is a trademark of Google LLC).
Google Services Framework support by means of OpenGapps.
Touch Screen Monitor control supported.
Group Framing support for huddle rooms.
External Keyboard/Mouse supported through USB interface or Bluetooth.

Directory service & address book:

LDAP Client (H.350)
Receive global address book from enterprise LDAP Server

Web management:

Configuration, call, diagnostics and management functions are accessible with Internet Explorer 8.0+, Firefox 3.6+, Safari 5.0+, Chrome 11.0+ and Opera 11+.
Automatic Firmware Upgrade through Cloud.
Meeting recording:

Recording on USB memory stick.
A feature supported in call and outside of a call.
Supported disks with file system FAT32, EXT2, EXT3 and EXT4.
Recorded file resolution 720p25 (rescaled to 720p when exceeding such resolution).
Control API commands available to transfer the recorded file to a remote FTP server.
Digital signature for recorded files.
AUDIO
Audio features:

Acoustic echo cancellation 
Audio error concealment 
Automatic Gain Control (AGC) 
Automatic noise suppression

Audio protocols: 

G.711, G.719, G.728 and G.729 A/B, G.722, G.722.1, G.722.1 
Opus Annex C

Microphone: Microphone array
CONNECTIVITY
USB ports:

 

1 x USB-C, 1 x USB 3

Audio inputs:

 

Bluetooth, USB

Audio outputs: 1 x HDMI, Bluetooth, USB
CONTENT SHARING
Content sharing / Web collaboration features:

Wireless presentation (Wi-Fi Display – Miracast) up to 1080p15fps.
Present content using Android Apps and USB memory stick.
Share content through HDMI using the optional Konftel AV grabber connected to the USB port (optional accessory). Supported laptop resolutions are as follows:

1920x1080p30, 50, 60
1680x1050p60\
1280x1024p60
1280x720p50, 60
1024x768p60
800x600p60

Content sharing / Split & share / Web collaboration protocols:

Dual video: H.239 (H.323), BFCP (SIP).
Wireless screen sharing (Wi-Fi Display – Miracast).
NETWORK AND COMMUNICATION
Network features:

IPv4 and IPv6 simultaneous support.
Auto Gatekeeper discovery.
QoS support: IP Precedence, IP Type of Service (ToS),
Differentiated Services (diffserv).

IP adaptive packet management:

Flow control.
Packet Loss based down-speeding.
Packet Loss recovery policies.

Security features:

Embedded encryption.
H.323 security per H.235v3 / Annex D. SIP security per SRTP and TLS 1.2, enciphering up to AES-256.
SIP "Digest" authentication (MD5) RTP media enciphering with AES-256.
Public-Key including Diffie-Hellman (2048 bits), RSA (up to 4096 bits).
A cryptographic hash (up to SHA-512).
Web access via HTTPS.
Selective enable/disable of IP features.
White list support.

Firewall traversal:

Auto NAT discovery HTTP and STUN H.460.18, H.460.19 "Keep Alive" packet time configurable.
Network protocols:
DHCP, DNS, HTTP, HTTPS, RTP/RTCP, SNTP, STUN, TCP/IP, TELNET, TFTP , 802.1q and 802.1p.

Network interfaces:

10/100/1000 Base-T full-duplex (RJ45).
Wi-Fi (802.11a/b/g/n, 802.11ac, Hotspot).
POWER SUPPLY
100-240VAC, 50-60Hz, 2.5A max.
PDFs
Newsletter
Sign up to receive the latest information