BarraCuda 3.5" Hard Drives bring you industry-leading excellence in personal computing, with capacities up to 8TB.
Includes
Capacity - 1TB to 8TB

5400 to 7200rpm

SATA Drive
Unrivalled Desktop Legacy

Built on proven reliability and innovation, BarraCuda 3.5-inch hard drives are available in a versatile mix of capacity and price point options to fit any budget.
External and All-in-One PC Storage (15 mm)

Utilise a 2.5 inch, 15 mm form factor drive in 3 TB, 4 TB, and 5 TB capacities. This drive provides an excellent upgrade solution for your external hard drive, all-in-one, or slim PC.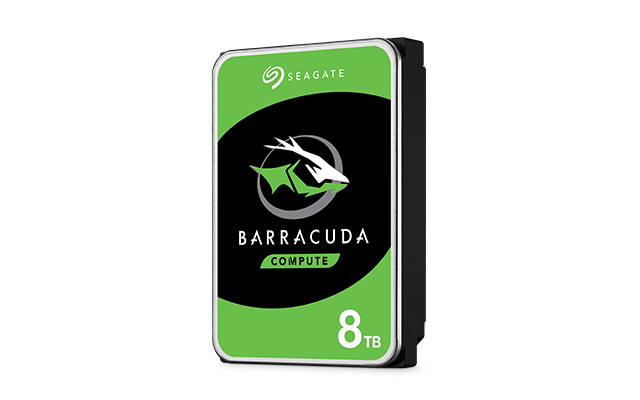 Optimised Read and Write Data Flow

All hard drives in the BarraCuda family come equipped with Multi-Tier Caching Technology (MTC). By optimising data flow with intelligent layers of NAND Flash, DRAM, and media cache technologies — get faster load and applications times and improved read and write performance.
Trusted Dependability

For more than 20 years, Seagate has manufactured and delivered the reliable BarraCuda family of drives. Your positive hard drive experience matters to us, which is why we offer robust limited warranties on all BarraCuda drives.
Peace of mind for when the unthinkable happens.

Data recovery can be costly. That's why most Seagate® drives now include Rescue Data Recovery Services. Defend your data — and your budget — against unexpected data loss for any mechanical, accidental or natural disaster.

With Rescue Data Recovery Services, you get:


Access to a team of world-class data recovery experts
One in-lab data recovery attempt
An encrypted storage device containing your recovered data if recovery is successful
An industry-leading 95% success rate for in-house SSD and HDD data recovery
Specifications

8 TB

6 TB

4 TB

3 TB

2TB

Standard Model Number

ST8000DM004

ST6000DM003

ST4000DM004

ST3000DM007

ST2000DM005

Bytes per Sector

4,096

4,096

4,096

4,096

4096

Performance

 

 

 

 

 

Interface

SATA 6Gb/s

SATA 6Gb/s

SATA 6Gb/s

SATA 6Gb/s

SATA 6Gb/s

SATA Transfer Rates Supported (Gb/s)

6.0/3.0/1.5

6.0/3.0/1.5

6.0/3.0/1.5

6.0/3.0/1.5

6.0/3.0/1.5

Max Sustained Data Rate, OD Read

(MB/s)

190MB/s

185MB/s

190MB/s

185MB/s

190MB/s

Cache, Multi-segmented (MB)

256

256

256

256

256

Rotational Speed (RPM)

5,400

5,400

5,400

5,400

5,400

Recording Technology

SMR

SMR

SMR

SMR

SMR

Reliability/Data Integrity

 

 

 

 

 

Load/Unload Cycles

600,000

600,000

600,000

600,000

600,000

Non-recoverable Read Errors per Bits

Read, Max

1 per 10E14

1 per 10E14

1 per 10E14

1 per 10E14

1 per 10E14

Power-On Hours (per year)

2,400

2,400

2,400

2,400

2,400

Workload Rate Limit (TB/Year)

55

55

55

55

55

Warranty, Limited (years)

2

2

2

2

2

Power Management

 

 

 

 

 

Startup Power (A)

2

2

2

2

2

Operating Mode, Typical (W)

5.3

5.3

3.7

3.7

3.7

Idling Average (W)

3.4 W

3.4 W

2.5 W

2.5 W

2.5 W

Standby Mode/Sleep Mode, Typical (W)

0.25/0.25

0.25/0.25

0.25/0.25

0.25/0.25

0.25/0.25

Voltage Tolerance, Inc. Noise (5 V)

±5%

±5%

±5%

±5%

±5%

Voltage Tolerance, Inc. Noise (12 V)

±10%

±10%

±10%

±10%

±10%

Environmental/Temperature

 

 

 

 

 

Operating (ambient, min)

0°C

0°C

0°C

0°C

0°C

Operating (drive case, max)

60°C

60°C

60°C

60°C

60°C

Non-operating (ambient)

-40°C – 70°C

-40°C – 70°C

-40°C – 70°C

-40°C – 70°C

-40°C – 70°C

Halogen-free

Yes

Yes

Yes

Yes

Yes

RoHS compliance

Yes

Yes

Yes

Yes

Yes

Physical

 

 

 

 

 

Height (mm/in, max)

26.11 mm/1.028 in

26.11 mm/1.028 in

20.2 mm/0.795 in

20.2 mm/0.795 in

20.2 mm/0.795 in

Width (mm/in, max)

101.85 mm/4.01 in

101.85 mm/4.01 in

101.85 mm/4.01 in

101.85 mm/4.01 in

101.85 mm/4.01 in

Depth (mm/in, max)

146.99 mm/5.787 in

146.99 mm/5.787 in

146.99 mm/5.787 in

146.99 mm/5.787 in

146.99 mm/5.787 in

Weight (g/lb, typical)

630 g/1.389 lb

610 g/1.345 lb

490 g/1.08 lb

490 g/1.08 lb

490 g/1.08 lb

Carton Unit Quantity

20

20

25

25

25

Cartons per Pallet / Cartons per Layer

40 / 8

40 / 8

40 / 8

40 / 8

40 / 8
Newsletter
Sign up to receive the latest information